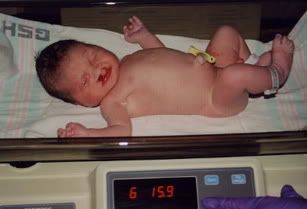 There were days, way back in the beginning, that I never thought we'd get to where we are today.
I never thought it would be hard to remember how it felt way back when, when Rowan was born and the doctor told me that he had a cleft and then put this little stranger on my belly.
I couldn't imagine that the hours of pumping and then squeezing the milk into his little mouth would disappear into that foggy haze of the past.
I couldn't picture him learning to walk, to run, to ride a bike...
I never imagined him on a soccer team.
I certainly never dreamed of his mohawk.
I remember the threat of surgery looming over our heads, and then it was happening, and then it was done, and then it was just something that happened a long time ago...

And here we are.
This is Rowan.
He loves dogs, riding his bike, and computers.
He's better at Mariokart that I am.
He can read. He's very good at writing. He draws well.
He makes this high-pitched noise that could make your ears bleed.
He sings to his baby sister.
He wants to be a vet when he grows up.
Honestly, how did we get from that baby to this boy? Where did it all go?
I can remember life before him, but I can't imagine it. I have to stop and think, "wait... that was before Rowan was born." How did I even exist before this boy came into my life?
I'm a completely different person today than I was 7 years ago.
7 years ago I was afraid and ashamed of feeling the way I did. I was looking for someone to blame and someone to make it all better *rightthisminute*.
This life is incredible. This world is magical. God is wonderful and mysterious and loves us more than we can possibly imagine. He chose us,
chose me!
, as Rowan's family. I couldn't have known it then, but I know it now - how very important that is.
Some people sparkle. Rowan is one of them. Aren't we lucky?